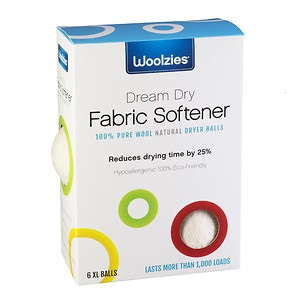 A few months back, I was sent a box of XL Woolzies Dryer Balls.
Woolzies are large wool balls that replace the use of dryer sheets.
They eliminate static, wrinkles and help your clothing/towels/sheets dry faster.
They are also a green product, and one ball can last a thousand loads.
Normally my product testing turnaround time on items like this is a lot faster and doesn't span several months.
However, I ran into a bit of an issue with this one.
I kept getting inconstant results depending on what it was I was drying.
So, over the course of a few months, I kept track of what loads were in the dryer and noted several factors: dry time, wrinkles & static.
Now, my laundry loads vary.
I wash my and my daughter's clothes together, and, occasionally, some of my husband's white stuff will mix in.
My husband's work clothes are a separate load washed with Woolite Dark (great stuff by the way).
Towels just get tossed in by themselves, as well as sheets, and jeans are also washed separate.
Reds used to get their own load too, but since I discovered the wonder that is the Shout Color Cather, they get tossed in with everything else.
The overall results were varied between the loads.
Towels and sheets came out nice and fluffy with little to no static, and dried in half the time.
My daughter's and mine laundry came out okay.
There were some wrinkles depending on the type of clothing, but nothing major.
Some loads did come out a bit staticky, and I'm not too sure why.
Jeans were the same, with some wrinkles and a faster dry time.
My husband's work clothing was a different story.
No matter how long I dried them, they consistently came very wrinkly and staticky.
I would end up having to toss a dryer sheet to get the wrinkles out.
There were only two consistent results with all the loads.
One was the faster dry time, which is great.
The second was that there was barely any lint on the lint tray with anything of the loads dried with the balls.
I don't know if that's a good thing or not.
I would hate to think that all of that was staying in the clothes/towels/sheets.
Overall, I'm not too sure how to rate these.
My results could be caused by a number of factors:
my dryer is old, what the clothing is made out of, or even defective balls.
I don't know.
Being that these are billed to be dryer sheet replacements, I don't see where they work all that well.
They do work great for decreasing dry time, but that's not enough of a benefit to warrant buying them considering the price.
A box of six, like I got, costs $34.95 (+ shipping).
Amazon has boxes of three starting at around $17 (+shipping).
If you are interested in getting more info about Woolzies, you can check out their
website
.
I received the above mentioned product for free to help facilitate my review.