Want to really surprise your kids on Christmas morning?  Then give them proof that Santa brought their presents with a picture from iCaughtSanta.com.  All you have to do is upload any picture you want and add in Santa…like this: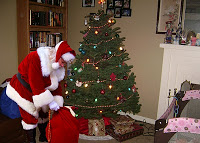 I'm giving away 5 gift certificates good for one free picture on iCaughtSanta.com.  For more info about the website, read my review here.  To win, all you have to do is be one of the first 5 people to post a comment to this post with your name & email address, and I'll send you the gift certificate code.  It's that easy!  Good luck!
**Note:  If you win and receive a code, make sure you enter it in on the front page first,before you start uploading and working on your picture.  For some reason, I had trouble getting the code to work when entering it in after I was done editing.