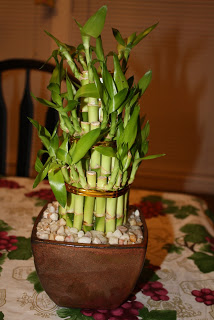 I was recently invited to try out ProFlowers, a sister site to Shari's Berries (which I reviewed last month).  As the name implies, ProFlowers sends out a huge selection of plants & flowers…as well as many of the delicious items found on Shari's Berries.
The layout of the site is pretty much the same as Shari's Berries, so it is very easy to navigate.  You can search the site or go through the various tabs.  I started my search with the Valentines Gifts for Him section and found both of my items quickly.  I ordered the Charmed in Love Bamboo and the
White& Chocolate Mousse Cake
.  Checkout was a breeze and I was able to pay via PayPal.  I also took advantage of the free shipping offer from FreeShipping.com. 
(If you are not a member, you can also get coupons good for ProFlowers here: http://www.proflowers.com/coupon-codes.aspx.)
  I set up the shipping so that I would receive both items the day before Valentines (13
th
).
I was surprised with a note in my email on the 11th telling me that my bamboo plant had been upgraded for free to the 3 Tier Pyramid Bamboo, which is not listed on the site so I wasn't too sure what I was getting.  The plant arrived early in the morning and looked absolutely wonderful.  It came with a ceramic pot and a bag of white gravel.  My husband loved it.  The cake came later in the day.  UPS decided that they just had to throw the box up on the porch & it landed sideways, slightly smashing the cake on one side.  I quickly put the cake in the refrigerator so that my husband couldn't see it, and we ate it last night after a romantic dinner.  It was very right, creamy and delicious.
Overall, ProFlowers is a great site, just like its sister site.  The site is easy to use, and you can order more than just flowers.  Everything on the site can make a wonderful gift.  You can check out the ProFlowers
website
to get more info & to shop.
I received the above mentioned products for free (via gift certificate) from Shari's Berries