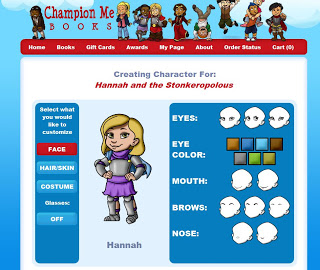 A few weeks ago, I was invited to check out Champion Me Books.
Champions Me lets you create
personalized children's books
 with your child as the main character.
They have several stories to choose from and you can receive your books in print, pdf, or e-book.
I ended up doing all 4 books.
When you first start, you pick out the book you want and then fill in the info about your child.
You then use their app to create a likeness of your child, which is inserted into the books.
The app lets you change the general appearance and clothing colors.
My daughter had fun changing the hair styles.
You can also add in a special message to your child as well.
I had the books made into pdf files, so once I ordered I only had a wait a few minutes for them to be ready.
I was able to download them onto the computer.
My daughter absolutely loves them.
The stores are cute and have great pictures.
Her favorite was the Scribble Monster.
Overall, Champion Me Books are a lot of fun for the whole family.
Your child will enjoy being the star of a book.
E-book format will cost $9.95.
For print, soft covers are $26.95 and hard cover are $37.95 (prices don't include shipping).
I think the e-books are the best value since you can view them on the computer, phone, or e-reader.
You can check out all four books
and create your own on the Champion Me
website
and
Facebook
.